A new approach to complete estate liquidation!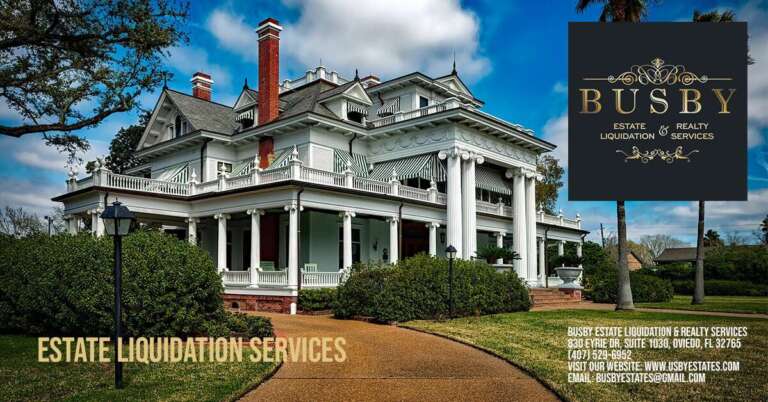 Estate liquidation can be an emotional and trying experience. It is time-consuming and can be logistically near impossible for heirs or families that live out of state. It takes expertise in several unrelated fields that most people (and firms) simply do not have.
Busby Estate Liquidation & Realty Services has the combined antiques, real estate, and project management experience to handle the entire project for you from start to finish, and alleviate the stress and worry of navigating this complex process. We are the top estate sale company in Central Florida. Here is how we do it:
A consultative approach
The process starts with a full assessment and appraisal of your and your family's needs, concerns, expectations, goals, and desires
Our owner, Chad Busby, draws on over 32 Years of antique dealer experience, 7 years of Information Technology Project Management for Fortune 500 Companies, and over 10 Years as a real estate sales associate, broker, investor, and estate liquidator.
A true turn-key solution – we handle everything!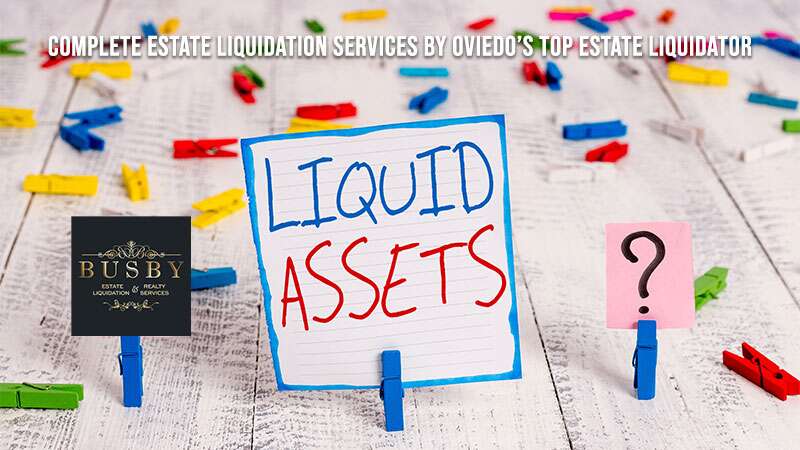 A unique marketing approach
By combining an estate sale with the first day of real estate listing, huge synergies are created. There is excitement in the air. People are getting great deals on antiques and collectibles, as well as household items. Buyers who are interested in the property walk in and see 50 other potential buyers and become anxious to make an offer
Paid social media advertising
Syndicated event listings through multiple online sources
A massive network of local dealers that have been our customers throughout our years in Central Florida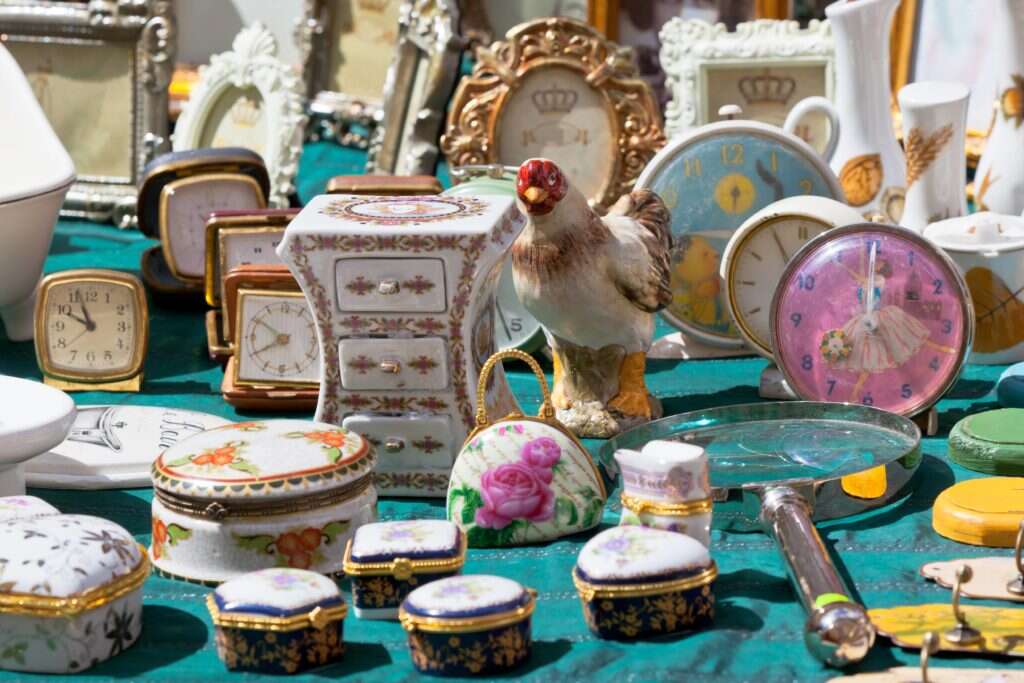 More options for our clients:
FAQ for Complete Estate Liquidation
How do you liquidate house contents?
If you're considering liquidating your house contents, there are a few things to consider. First, determine what you want to get out of the property. Second, figure out how much it will cost to sell each item. Third, make an estimate of how long it will take to sell everything, and fourth, set a price ceiling and floor for each item. Fifth, create a list of items and list them by category. Sixth, start advertising your sale items, and lastly, set up a time frame for when you expect the sale to conclude.
How do you get rid of stuff after an estate sale?
After an estate sale, many people are left with many unwanted items. Whether the family member who died wanted to downsize or someone just couldn't keep up with the accumulation, there is often a lot of stuff that needs to go.

One specific example to get rid of unwanted estate sale items is to call a local charity or donation center and set up a free pickup. This is an easy and free way to get rid of unwanted items.  You don't have to worry about the cost of hauling it all away.  Just bring it in, and they'll take care of everything.
What is Estate Liquidation in insurance?
Estate Liquidation insurance is the process of disposing of an individual's estate after death. This can include selling the deceased's property to distributing their assets to heirs.

Estate liquidation can be a complex and time-consuming process, but the beneficiaries of an estate need to have someone to help them through it.
What is a liquidation sale of property?
A liquidation sale is a type of auction in which property is sold off by the owner, usually as part of an estate plan. The goal of a liquidation sale is to sell off as much property as possible quickly and at a reduced price so that the proceeds can be used to pay off debts or other expenses.

Properties that are sold in a liquidation sale are typically sold in an auction format, with buyers bidding against each other until the property is sold.
What is the best way to sell estate items?
Selling estate items can be a daunting task, but there are a few things you can do to make the process easier. First, take inventory of what you have and determine what is worth selling. Next, create a list of potential buyers and track their interest in your items. Finally, market your items to resonate with the target audience. Following these tips, you can sell your estate items smoothly and quickly!
How can I liquidate assets quickly?
If you are faced with the dilemma of how to liquidate assets quickly, there are a few things you can do. First, consult with a financial advisor or attorney to see if there are any ways to speed up the process. Second, consider selling off your assets piecemeal in an effort to avoid paying capital gains taxes. Finally, try to find an asset that is easy and quick to sell, such as real estate or stocks.
How do you liquidate everything?
It's a question many people ask themselves during tough financial times: How do I liquidate everything? There are a few ways to go about this, but the most important thing is to decide what you want to sell and what you're willing to let go of.

One option is to list everything you own on Craigslist or eBay. This can be time-consuming and might not result in the highest offer, but it's an easy way to get rid of some unwanted items. Another option is to take your possessions to a local charity or donate them all.
How do I do an estate sale on my own?
If you're considering doing an estate sale on your own, it's important to know what steps you need to take. First, decide what type of sale you want to hold. There are several options, including a direct sale or auction. Next, identify the items you'll be selling and estimate their value. You'll also need to create a list of prices for each item and make arrangements with buyers. Finally, set up a time frame and date for sale, and promote it online and in local newspapers.
What does liquidating your house mean?
When you decide to liquidate your house, it means selling off all of your possessions and closing the sale as quickly and efficiently as possible. Liquidation can be a difficult process, but with the right tools and some preparation, it can be an incredibly smooth one. Here are six tips for making liquidation go as smoothly as possible:

1. Establish a clear goal. Set a deadline for when you want to have the house sold and know what you're willing to accept in terms of price. This will help keep you focused during the process.

2. Set a price limit. Be sure to set a price ceiling for yourself. You don't want to get too far above the market value of your house, but you don't want to be so conservative that you're not selling it. Set your price and stick to it throughout the process.
How can I sell all my stuff at once?
If you're thinking of selling all your stuff at once, here are a few tips to help make the process easier. First, take inventory of what you have and figure out what you're likely to receive in return for it. Then, set a realistic price for each item and put everything away where you can see it. Finally, create a list of potential buyers and get started selling!
What does liquidation mean in death?
In the United States, their assets are typically divided among their heirs when someone dies. This is done through what is called "liquidation". Liquidation means that the assets are sold off, and the money is distributed to the heirs. In some cases, liquidation can be complicated due to any debts or mortgages that may be owed on the property.
Which assets are included in the liquidation estate?
When a person dies, their assets are divided up among their beneficiaries. This can be a difficult process, but it's important to remember that the definition of an asset can vary depending on the situation. In this article, we'll look at what is included in the liquidation estate and what decisions you need to make when dividing these assets up.
What is a liquidation example?
A liquidation example is an event where a company goes through the process of being sold off and closed down. This typically happens when a company is in serious financial trouble and can't pay its bills. The company's owners might sell it off to another company or try to shut it down themselves. In either case, the goal is to eliminate the company quickly and cheaply.

If you have additional questions, refer to the FAQ on our website.