Top Estate Liquidators Offering Estate Sales & Estate Liquidation in Oviedo, FL.
Providing the top Estate Liquidation service in Oviedo FL, Busby Estate Liquidation & Realty Services offers a wide range of services to help families and individuals liquidate their possessions. From auctioning off estate items to helping residents find the right disposal method, our team is dedicated to providing the most comprehensive and affordable solution possible. We know that every family is unique, which is why we tailor each estate liquidation buyout service specifically to meet your needs. Contact us today to learn more about our estate liquidator Oviedo FL services and how we can help you get through this difficult process as quickly and efficiently as possible.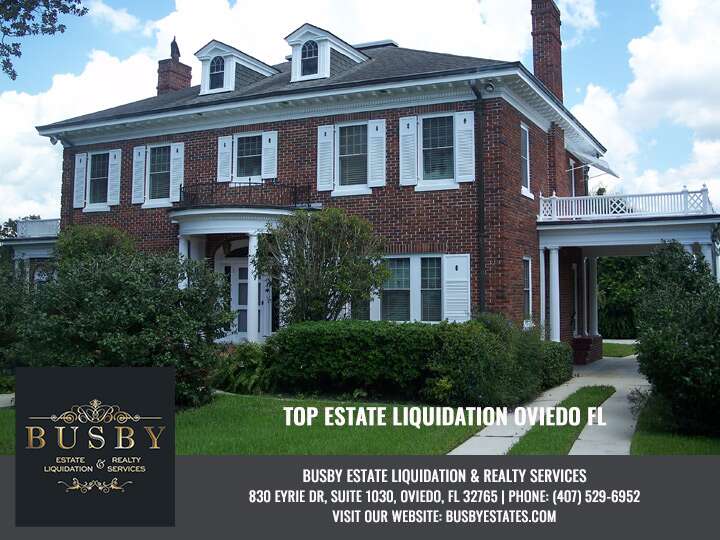 Do you need a reliable and efficient estate liquidator in Oviedo, FL?
Look no further than Busby Estate Liquidation & Realty Services!
Our team of experienced professionals has the knowledge and expertise to handle all aspects of estate liquidation, from organizing and appraising items to conducting successful sale events. We understand that liquidating an estate can be overwhelming, so we offer personalized service and tailored solutions to meet your unique needs.
With Busby Estate Liquidation & Realty Services, you can trust that your loved one's belongings will be treated with the utmost care and respect. We take the time to thoroughly assess each item and provide accurate appraisals, ensuring you get the best value for your estate.
Our team is dedicated to making the liquidation process as smooth and stress-free as possible for you and your family. We handle all logistics, from setting up the sale to managing the checkout process, so you can focus on what matters most.
In addition to our exceptional liquidation services, we offer expert advice on various topics, including estate planning and inheritance laws. With Best Estate Liquidator Services, you can count on receiving comprehensive, top-quality service from start to finish.
Don't hesitate – to contact us today to learn more and schedule a consultation. Let us take the burden off your shoulders and help you seamlessly liquidate your estate. Choose Busby Estate Liquidation & Realty Services, the best choice for estate liquidation in Oviedo, FL.
Top Estate Liquidation Services in Oviedo FL
At Busby Estate Liquidation & Realty Services, we provide the following services to residential and commercial clients located in Oviedo, Florida, and the surrounding areas:
Call, Text, or Email us for more information regarding our complete Estate Liquidation Oviedo FL services and how we can help.